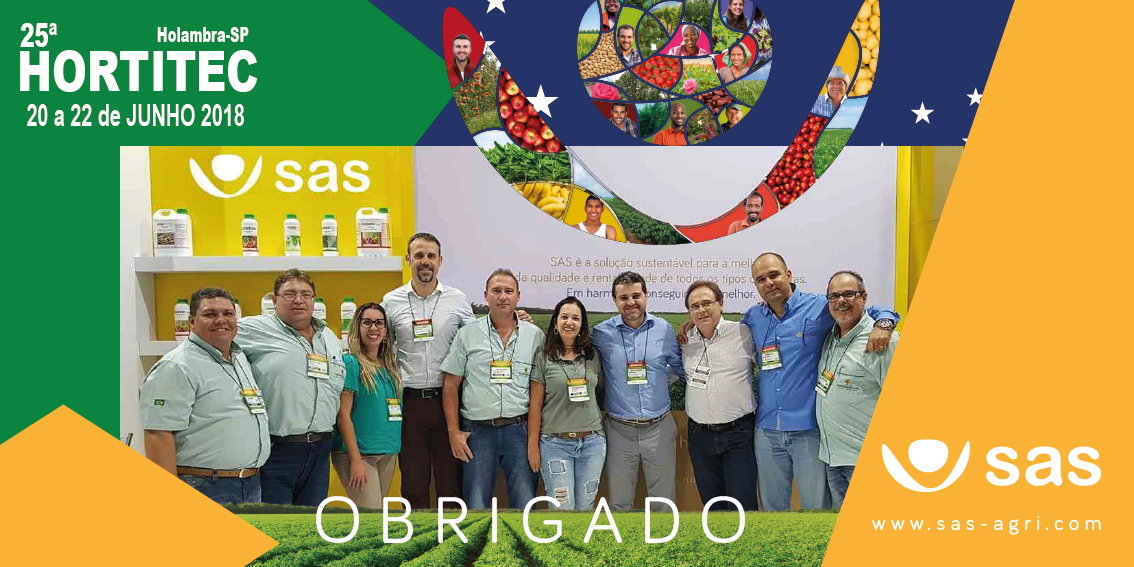 Obrigado Hortitec Brasil
A Hortitec, a maior feira técnica de horticultura da América Latina, em sua 25ª edição, foi o cenário ideal para a reunião de todos os distribuidores da SAS no Brasil. Mais de 50 diretores e técnicos apresentaram suas experiências com nossos produtos e receberam informações sobre as novidades SAS apresentadas por Luis Carmelo Clemente, Product Manager SAS.
A SAS aprecia de forma significativa a implicação, a cordialidade e a interação de todos e cada um dos presentes numa semana muito produtiva, não só para consolidar um futuro comercial sorridente, mas também para incentivar e fortalecer a relação pessoal com e entre todos os seus sócios de negócios no Brasil.
Hortitec, the largest horticultural technical fair in Latin America, in its 25th edition, was the ideal place to gather all SAS distributors in Brazil. More than 50 directors and technicians presented their experiences with our products and received information about SAS novelties presented by Luis Carmelo Clemente, Product Manager SAS.
SAS appreciates in a significant way the involvement, cordiality and interaction of all the attendees throughout this productive week, not only to consolidate a very promising commercial future, but also to encourage and strengthen the personal relationship with all our partners in Brazil.
Hortitec, la mayor feria técnica de horticultura de América Latina, en su 25ª edición, fue el escenario idóneo para la congregación de todos los distribuidores SAS en Brasil. Más de 50 directores y técnicos presentaron sus experiencias con los productos coda en la misma jornada que recibieron formación acerca de las novedades SAS presentadas por Luis Carmelo Clemente, Product Manager SAS.
SAS agradece de forma significativa la implicación, cordialidad e interacción de todos y cada uno de los presentes en la que fue una semana muy productiva, no solo por consolidar un futuro comercial muy prometedor, sino también en fomentar y fortalecer la relación personal con y entre todos sus socios comerciales en Brasil.