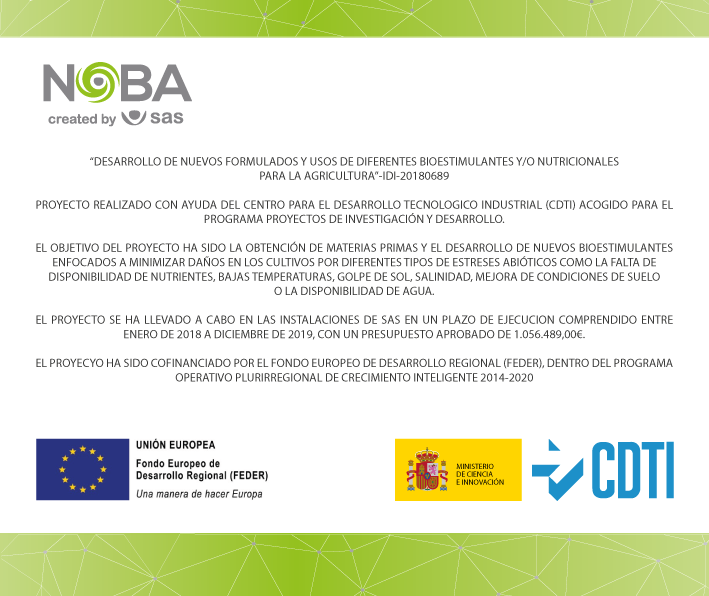 DESARROLLO DE NUEVOS FORMULADOS Y USOS DE DIFERENTES BIOESTIMULANTES Y/O NUTRICIONALES PARA LA AGRICULTURA
"DESARROLLO DE NUEVOS FORMULADOS Y USOS DE DIFERENTES BIOESTIMULANTES Y/O NUTRICIONALES PARA LA AGRICULTURA"
Es el título del proyecto que ha desarrollado nuestra plataforma tecnológica NOBA entre enero de 2018 y diciembre de 2019.
El objetivo ha sido el desarrollo de una nueva línea de bioestimulantes enfocados a minimizar daños en los cultivos por diferentes tipos de estrés abiótico, como la falta de disponibilidad de nutrientes y/o agua, las bajas temperaturas, el golpe de sol o la salinidad.
Con un presupuesto de 1.056.489,00€, el proyecto ha sido realizado con la ayuda para el Centro para el Desarrollo Tecnológio Industrial del gobierno de España (CDTI) y ha sido cofinanciado por el Fondo Europeo de Desarrrollo Regional (FEDER).
Pronto os presentaremos la novedosa línea de productos bioestimulantes de  SAS.
"DEVELOPMENT OF NEW FORMULATES AND USES OF DIFFERENT BIOESTIMULANTS AND/OR NUTRITIONALS FOR AGRICULTURE".
This is the title of the project developed by our NOBA technology platform between January 2018 and December 2019.
The objective has been the development of a new line of biostimulants focused on minimizing crop damage due to different types of abiotic stress, such as the lack of availability of nutrients and/or water, low temperatures, sunburn or salinity.
With a budget of € 1,056,489.00, the project has been carried out with the help of the Center for Industrial Technological Development of the Government of Spain (CDTI) and has been co-financed by the European Regional Development Fund (ERDF).
Soon we will let you know the new line of SAS biostimulant products.